ASN Bank provides finance to projects that contribute to a sustainable society. Read more about the kind of projects and sectors we finance.
Our mission
Since 1960 ASN Bank's aim is to invest its customers' capital in a way that contributes to a society where people are free to make their own choices without negatively effecting others. A society without poverty, with education available for all and with the availability of good housing and healthcare. To achieve this, we contribute to a better environment for present and future generations, whilst generating a healthy return on investment for our organization.
In accordance with this mission, we finance projects that contribute to a sustainable society. Many of these projects help to combat climate change: generating renewable energy or conserving energy. The finance of projects from organizations that play a social or cultural role in the community also advances our mission.
Our projects
Projects that require a loan of at least one million euros, with the focus on the following sectors:
Wind energy
Open
Wind farms onshore, offshore and near shore
Varying from small wind farms with a few turbines to major international projects in which several commercial banks, public authorities and shareholders are involved
Solar energy
Open
Smaller solar installations that contribute to the sustainability of buildings that function as public amenities, healthcare facilities or business premises
Decentralized energy supply
Open
Decentralized energy generation for office and business premises, residential complexes, healthcare facilities and cultural institutions.
Usually involving thermal energy storage (TES) systems
(Social) housing
Open
Public housing associations: non-profit organizations providing good, affordable, energy-efficient housing.
Public buildings
Open
Renovation and construction of public buildings
Focusing on the sustainability and energy efficiency of the buildings concerned
Contact our Finance Specialists
Our staff at the Sustainable Finance department will be happy to talk to you.
Telephone: +31 (0)70 - 356 92 88 (business days, 9:00 am and 5:00 pm)
Contacts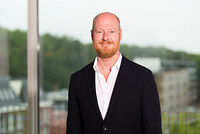 Peter Kleintunte, accountmanager
Remko de Bie, accountmanager